Top 6 Shepherd's Pies in Singapore
An inexpensive yet filling dish that is much loved in Singapore is the shepherd's pie. Originating from Scotland and North England, this baked meat pie is topped with creamy and buttery mashed potatoes that would truly fill you up with all the needed carbs and protein. Singaporeans and tourists' alike flock to restaurants that offers great tasting shepherd's pie since you get all the needed nutrients that would make you energized.
Also known as cottage pie, this dish was originally made by housewives as a way of "repurposing" leftover meat from their Sunday roasts into a whole new different dish that is filled with tasty meat and vegetables. Since shepherd's pie was made with lamb meat, the name 'shepherd's pie' stuck and was then known and loved all over the world. What made shepherd's pie an adored dish is with how each ingredient explodes with flavor and how you can easily satisfy your hunger with a single serving.
Shepherds pies are also a very popular dish during Christmas, as its an appropriate dish for families to gather and enjoy.
In this article, we will look at the top 6 shepherd's pie in Singapore, which has garnered their own number of regulars, for those days (or nights) that you need to have your quick fill while still enjoying a traditional and savory dish.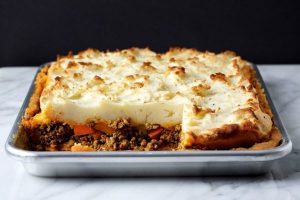 Massive Shepherd's Pie going at $29.90: Shop Here
If you are craving for your fill of a warm and scrumptious shepherd's pie then Shepherd's Pie Singapore is your go-to. Starting out in 2011 as a simple venture of serving yummy pies during Christmas dinners and parties, the demand for this recipe of this traditional dish pushed its owners to venture out and serve their yummy pies for everyone to love.
With choices of either beef or chicken shepherd's pie, everyone will surely be satisfied whenever this is served during lunch, dinner, or even for a simple snack. The flavorful meet and veggies is topped with a rich amount of creamy mashed potatoes that will truly satisfy your hunger for a delicious meal. What's more, anyone can easily get a single serving of shepherd's pie by ordering online for only $4.20!
They have a delivery service so you can purchase them over here: https://shepherdspie.sg/shop/
Phone:  9762 6523
Website: https://shepherdspie.sg/
2. The Shepherd's Pie
One of the most famous place in Singapore where you can get this mouth-watering dish is at The Shepherd's Pie. Just as what their name suggests, this spot's specialty is the meaty shepherd's pie that comes in different meat choices like classic chicken, pepper chicken, classic beef, and rendang beef. They are considered as the first restaurant that offered shepherd's pie around Singapore around 2007, with their early years starting as a humble stall at Simpang Bedok.
Around the latter part of 2018, this famous place began offering their frozen pies where patrons can simply store them in their refrigerator and reheat whenever they want. Since each frozen pie can last for six months when refrigerated, patrons can now easily order their stocks of shepherd's pie and enjoy them during family dinner or whenever the craving kicks in. So, for shepherd's pie lovers who want theirs anytime, The Shepherd's Pie is really a must try!
Address:  3015 Bedok North Street 5
Phone:  67890707
Website: www.theshepherdspie.com
3. Violet Oon
A famous group of restaurants with branches all over Singapore is Violet Oon. Famous for their gourmet Nyonya and Singaporean cuisines, this restaurant also serves signature dishes from all over Asia.  All of their branches have a unique style and ambience that would make dining a really enjoyable experience.
Their VO's shepherd's pie features braised minced beef that is topped with rich mashed potatoes would never fail to satisfy anyone's craving. Priced at $24, their famous shepherd's pie is part of their lunch and dinner menu, and comes with a flavorful side of their famed house salad.
Address: ION Orchard, 2 Orchard Turn
Phone:  65 9834 9935
Website: https://violetoon.com/
4. The English House
Opened in 2018, this hotel and restaurant started by world-renowned chef Marco-Pierre White serves English classic dishes like spit-roast chicken, egg custard tart, and strawberries and cream. Since shepherd's pies originate in England, it is only natural that they have the famous shepherd's pie included in their menu.
Filled with generous amounts of ground lamb and carrots, this version of shepherd's pie is topped with a creamy golden mash potato. For shepherd's pie enthusiasts, heading over to this restaurant and enjoying a rich serving of the classic pie in a colonial English ambience is really something that you would love to experience!
Address: 28 Mohamed Sultan Road
Phone:  6545 4055
Website: www.theenglishhouse.com
5. Brewerkz
If you are a fan of great beer along with your scrumptious shepherd's pie, then Brewekz at is the perfect place for you! Locals and tourists alike love the special craft beer and how it easily matches with their various Western and Asian dishes.
While enjoying their house craft beer, their minced lamb shepherd's pie is a great match for a midday break or to cap of the night. Same with the special shepherd's pie of restaurants in this list, their lamb meat pie is topped off with mashed potatoes that will surely whet your appetite. Locals and tourists love heading over to Brewerkz after a busy day to have their beer and dinner knowing that every penny spent is worth it.
Address: 30 Merchant Road Riverside Point
Website: https://brewerkz.com/
6. The Gourmet Pie Company
Are you a pie lover? If you are, then The Gourmet Pie Company would be a haven for you! With a wide selection of vegetable, chicken, beef, and lamb pies, this restaurant would give you everything that you could ever look for when you're craving for your pie that's made with high-quality Australian and New Zealand lamb and beef.
Started in 2011, they offer shepherd's pie that was passed down from 3 generations of traditional recipes. Their signature shepherd's pie is made with New Zealand lamb and comes with vegetables like tomatoes, onions, zucchini, potato, and carrots. Just like with other traditional shepherd's pie recipes, each serving is topped with a creamy mixture off mashed potato and New Zealand cheese. Perhaps what makes them a go-to of pie lovers is with how you can have a wide array of meat choices depending on your taste, with over 30 savory pies to choose from!
Address: 10 Tuas Bay Walk
Phone:  9825-4559
Website: http://www.thegourmetpiecompany.com