Durian lover's it is time to hang on to your seats because we have news that will leave your taste buds jumping for joy! Try to picture a place that brings two of your most favorite food items together. Hint: Think delicious Durian and Desserts combined. Yes, ladies and gentlemen, you heard that right. Some genius finally heard our cries and put the two together for us to enjoy.
So, I recently stumbled upon Durian Mpire. Durian Mpire not only specializes in providing high quality Durian, but they decided to up their Durian game by creating scrumptious desserts made from only the freshest ad tastiest Durian there is. Aside from satisfying the taste buds, their mousse cakes have been known to be Instagram worthy too – definitely worth dedicating a spot on your social media feed too they say. Durian Mpire has been making some noise among the foodies when it comes to their desserts.
You would probably see mixed reviews on their Facebook page when it comes to the fresh Durian they sell (they did put a disclaimer that quality is highly dependent on season), their desserts have been receiving positive feedback on reputable sites and social media. You would hear a lot of positive reviews when it comes to their Durian desserts, but the crowd favorite, I may say, would be the Durian Puffs and Coil. The Durian Puff is a unique Singaporean twist to the classic French cream puff. The pastry is a crisp and hallow shell filled with rich and creamy durian pulp while the Durian Coil sells as $10. It is a cake roll with delicious Durian filling and frosting. Their puffs are known to be so good that they were crowned and awarded as having "The Best Durian Puffs in Singapore". Another item on their menu that has slowly been making more rounds on the web would be their Durian Mochi. These small but delectable desserts sell at $3.80 for two pieces. The mochi is soft, with a slightly sweet taste that compliments the rich Durian filling.
Aside from the mentioned standouts, the Durian Crepe, Durian Pudding, and Durian Cake would be the runner ups and are mostly mentioned to be worth a taste too.
Though Durian desserts may be at the top of the list of must tries, Durian Mpire is also popular for the following things: hosting durian/fruit parties for both small and large-scale events, their fresh Durian (especially when in season), vacuum packed de-shelled Durian for travelers, and (my personal favorite) creative Durian desserts.
If you want to head over to their outlets they are in the following locations:
Changi Airport T2, Departure hall, #026-012-01. Tel: 6546 5177

(Vending Machine) Highland Centre, 22 Yio Chu Kang Road, #01-01, Spore 545535 open 24/7- 6487 2777 / 6344 0717

299 Tanjong Katong Road Singapore 437082 Tel: 6344 3616
If you want to get your hands on their Durian treats there is not excuse not to. Give them a call to know more.
Get Your Durians from Duriandelivery.com.sg today!
Duriandelivery.com.sg delivers durians to you on the same day, fresh. 100% Quality Guaranteed or Money Back.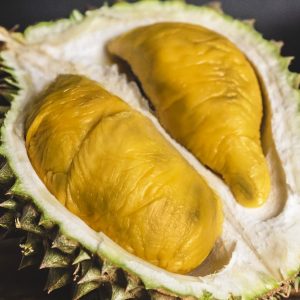 Order Durians Now