Durian buying guide
Sourcing for good durians is no easy affair. There are multiple factors to consider – weight, scent, colour, and even down to the origin of the durian. Since premium durians don't come cheap, it's important that you're getting your money's worth and have an up-to-date durian guide.
To kickstart your hunt for quality durians, we've sussed out 7 popular types of durians we Singaporeans swear by. Read on for a durian buying guide on the average prices for each durian type, flavour, taste, as well as how to avoid getting scammed online.
Pricing guidelines for durians
Here's a handy price list on the cost of durian in Singapore. Given that these are the average prices per KG, you should only use it as a rough estimate.
| | |
| --- | --- |
| Types of durians | Price per KG on average |
| Mao Shan Wang | 18-20 |
| Old Tree Mao Shan Wang | 20-22 |
| Red Prawn | 12-16 |
| D24 | 12-14 |
| Golden Phoenix | 18-22 |
| Premium D101 | 14-16 |
Reference:
Durian Delivery's durian buying guide
Singaporeans' favourite durians
1. Mao Shan Wang (Musang King)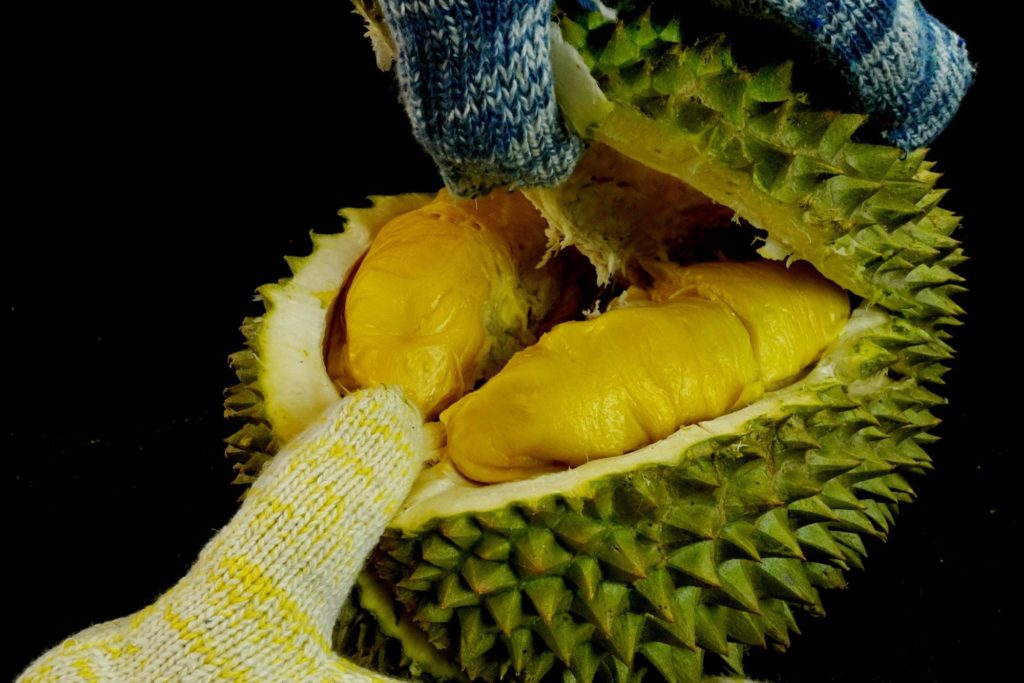 No questions asked – Mao Shan Wang, or Musang King, is the obvious choice most Singaporeans vouched for. The locals are addicted to the bittersweet flavour and creamy texture that other durians simply can't match up to.
If you're not up for a durian hunt, have it delivered right to your doorsteps at Durian Delivery instead. All deliveries are carried out within 60 minutes so you get the freshest durians wherever you are.
Protip: Keep a lookout for its distinctive traits – a star-shaped brand at the bottom of the husk and a bald stem.
2. Mao Shan Wang – Pahang Old Tree
Durian aficionados who love a bitter durian will fall in love with Pahang Old Tree MSW. In fact, the older the trees, the more pungent they become. Expect nothing less than generous durian flesh with a firm texture.
Grade A Pahang Old Tree MSW can be hard to come by, but Durian Delivery has exclusive access to one of the most renowned plantations in Tiger Hill, Pahang. If you're craving for a bite of the bitter fruit, you've come to the right place.
3. Mao Shan Wang – Pahang Signature Black Gold
Black Gold got its moniker for its dark, black 'veins' underneath the durian flesh. Don't confuse that as bruises though! These are telltale signs of mature durians packed on the most bitter flavours. Similarly, expect a strong, stinging aroma that might knock you out on your first whiff much like Pahang Old Tree MSW!
Since Black Gold is ranked as a few grades higher than Mao Shan Wang (Musang King), getting a good quality durian can be hit-or-miss. Should your durians turn out sour, watery, or unripe, Durian Delivery offers 100% Replacement Guarantee. Find out more about our replacement policy here.
4. Red Prawn
Because of its reddish glow, the locals call this durian Red Prawn, Hong Xia, Ang Hei, or Udang Merah. Those with a sweet tooth are fond of its sticky, sweet, and milky aftertaste.
Taste aside, even the most nit-picky of foodies will be impressed with its voluminous flesh and small seeds ratio.
5. XO D24
Before Mao Shan Wang took Singapore by storm, XO D24 was the default choice. Both durians are famed for their bittersweet profile but die-hard fans of XO D24 love the lingering alcoholic taste. Don't be surprised if you find yourself a little tipsy!
P.S. If you're planning for a durian-eating sesh with the fam, enjoy affordable pricing with FREE deliveries for orders $100 above.
6. Golden Phoenix (Jin Feng)
Golden Phoenix, or Jin Feng, is a palm-size durian with a surprisingly strong acidic taste. Despite its size and limited availability, the bitter durian doesn't disappoint with its generous fruit portion.
The durian isn't as pungent as Mao Shan Wang or DO X24, making it easy for first-timers to take their first bite. Do note that the texture is dry and has a mild alcoholic fragrance.
7. D101
If Red Prawn is your go-to durian, then D101 might be up your alley. Much like the former, the flesh is tinged with a rosy sheen and is often sweet. However, D101 can be bitter if it has been harvested from an old tree.
How to avoid online scams
Ordering durians online can be risky – you can't physically check on the quality of durians or strike up a relationship with a trusted durian seller. In fact, records of scamming incidents reach an all-time high in recent years. Back in July 2020, more than 150 customers filed police reports against an online durian business for their subpar durians.
But if you are staying indoors to keep your family safe from the pandemic, here's how you can avoid getting scammed and still score good durians online:
Check for positive reviews – This is the most reliable way to check for authenticity. You can also check their Facebook or Instagram (if any) for customer reviews.

Featured by other publications and brands – Other than customer reviews, you can also get your intel from trusted publications or online newspapers.

Look for refunds or replacement guarantees – Should you receive rotten and sour durians, these conditions will protect you from unreliable durian sellers.
The Only Durian Store with 100% Replacement Guarantee
With all 3 checkboxes ticked, Durian Delivery is certainly one of Singapore's most trusted durian service providers. Our durians are freshly plucked from Pahang's exclusive durian plantation and are even featured in publications like The Straits Times, Sethlui.com, and Vulcan Post.
Enjoy these perks when you order from Durian Delivery:
60 Minute Delivery⠀
Same Day Delivery⠀
100% Replacement Guaranteed⠀
Should there be any hiccups with your orders, let us know and we will replace it in a jiffy as per our Bao Jiak (Replacement Guaranteed) policy.
Note: Check out our page for the availability of durians. Our durians often run out fast due to its immense popularity so make sure to keep your eyes peeled!