Ah Hung Durian Review
Location: 109 Sims Avenue, 387433 Phone: +65 6743 3509 Email: not available Facebook:
https://facebook.com/Ah-hung-D24-Sultan-stall/
Instagram: not available Business Hours: no information Ah Hung D24 Sultan Durian are one of the more popular durian stores in the east. Located along Sims Avenue, and just a few minutes away from Aljunied MRT, they have steadily built a reputation for being one of the most trustworthy durian stores in terms of both pricing and quality. Located amidst a stretch of durian stalls on Sims avenue, Ah Hung stands out for their genuineness. If you are paying for something at Ah Hung, you are definitely getting your money's worth. The people at Ah Hung never compromise on quality, they always offer the freshest and tastiest durians. Quite evident from their name is the fan favourite. D24s at Ah Hung never fail to satisfy customers, some even say they may have the best in the whole of Singapore. If you do visit them in peak durian season, you should also try out their Mao Shan Wangs which have a slightly bitter, fleshly meat and small flat seeds.
Highlights
Being a small tidy outlet, Ah Hung makes the perfect place to bring your family especially your kids for a durian treat. There are chairs and tables that can house a small crowd. There is also the ambience created by the location of the store that allows it to be just the perfect place to relax with your family. Your kids are going to definitely love it there. You can also take away your durians either whole with the husk unremoved or dehusked and sealed in an airtight Styrofoam bag. At this time, it is impossible to confirm if they run delivery services.
Al hung source their durians from Pahang, the home of all things durian. They usually arrive daily to ensure that customers are served only the freshest and tastiest durians. At Ah Hung, it is believed that the best way to enjoy the taste and nutritional value of a durian is if it is fresh. Once durians reach the next day, they are thrown out to avoid mixing them up with the fresh ones.
As stated earlier, the cultivar most popular at Ah Hung is the D24. This exotic beauty is thick and creamy with a slightly less overwhelming flavour when compared with other durian cultivars. The D24 is usually favoured by people who are new to durian eating. It provides a rather easier introduction that eases them into the durian eating culture. Their dedication to this cultivar is so much that only the D24 and the more popular Mao Shan Wang are regular fixtures, all other cultivars are scarcely available Delivery information: not available Price Information. MSW: $28/Kg D24: $14/Kg Please be aware that the prices of the above listed commodities are not fixed and do not represent the current stock of the company. Please do contact the vendors for accurate and current information.
Get Your Durians from Duriandelivery.com.sg today!
Duriandelivery.com.sg delivers durians to you on the same day, fresh. 100% Quality Guaranteed or Money Back.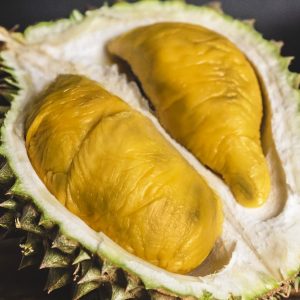 Order Durians Now