Address: 22 Yio Chu Kang Road, Highland Center, #01-01 Singapore
Phone: +65 6385 7717
Email: enquiry@durianmpire.org
Business Hours: 10:00 AM to 10:00 PM daily
Competing with a wide array of durian shops in Singapore is 717 Durian, a durian-themed store, and bakery that has become famous not just for its fresh durian but also their vast array of durian pastries, cakes, and dishes.
History
717 Durian Mpire is a fresh fruit stand that was established in 1973. It started as a fresh fruit stall, but over the years, the management decided to diversify their product lines. Today, they are now offering various pastries, cakes, burgers, and puddings made with their trademark Durian filling. Two of their bestsellers are their Durian puffs and coils.
Despite having a diversified product line, the store still maintains its roots by offering fresh durian of different varieties such as Golden Phoenix, Black Thorn, Black pearl, red Meat, XO, D13, Green Bamboo, Old Tree and new Tree MSW.
Tips to Keep in Mind
717 Durian has 3 outlets nationwide.
Aside from diversifying their product lines, 717 Mpire has also expanded their business by establishing a store in 2 different locations in Singapore. You can now buy their Durian products at Terminal 2 Departure Hall, Changi Airport and 299 Tanjong Katong Road Singapore 437082.
Their main stall is highly accessible via public transit.
You can reach their main stall by alighting at Kova. Afterwards, take the bus with number 136 which can be found outside the Heartland Mall. Alight at the Serangoon MRT and walk along the Upper Serangoon Road. Turn left when you reach the post office and continue walking towards the Highland Center for about 10 to 15 minutes.
Prices of the products may vary depending on the season and availability.
Since the shop is selling fresh durians and pastries made from durian, the price may vary based on the availability of the produce. You can monitor the price of their products by checking out their Facebook page. The management usually updates the page about any change (hike or reduction) of their items.
The management offers 1 to 1 exchange.
Aside from the fact that prices may vary, the quality of their produce may also change too. If the produce that you have received from the seller is of bad quality, you can make a complaint to the seller about them, and they will be glad to replace it with ones that are of good quality.
Delivery Information
– Delivery is available via Ubereats and comes with a charge of $20.
Price Information
– Old Tree MSW ($20/kg)
– Golden Phoenix ($20/kg)
– New Tree MSW ($15/kg)
– Black Thorn ($15/kg)
– D13 ($10/kg)
– Black Pearl ($16/kg)
– Red Meat ($16/kg)
– XO ($16/kg)
– Green Bamboo ($16/kg)
– Durian Cakes ($30 – $238)
– Durian Pudding ($3.20)
– Mango Pudding ($2.00)
– Mochi ($4.50)
– Crepe ($5.80 – $12.80)
– Durian Burger ($38.00)
– Durian Sandwich ($4.30)
– Durian Coil ($10.00)
Get Your Durians from Duriandelivery.com.sg today!
Duriandelivery.com.sg delivers durians to you on the same day, fresh. 100% Quality Guaranteed or Money Back.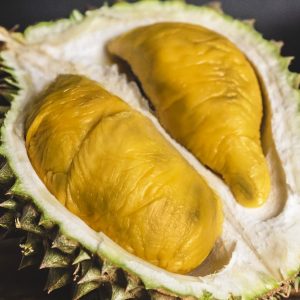 Order Durians Now